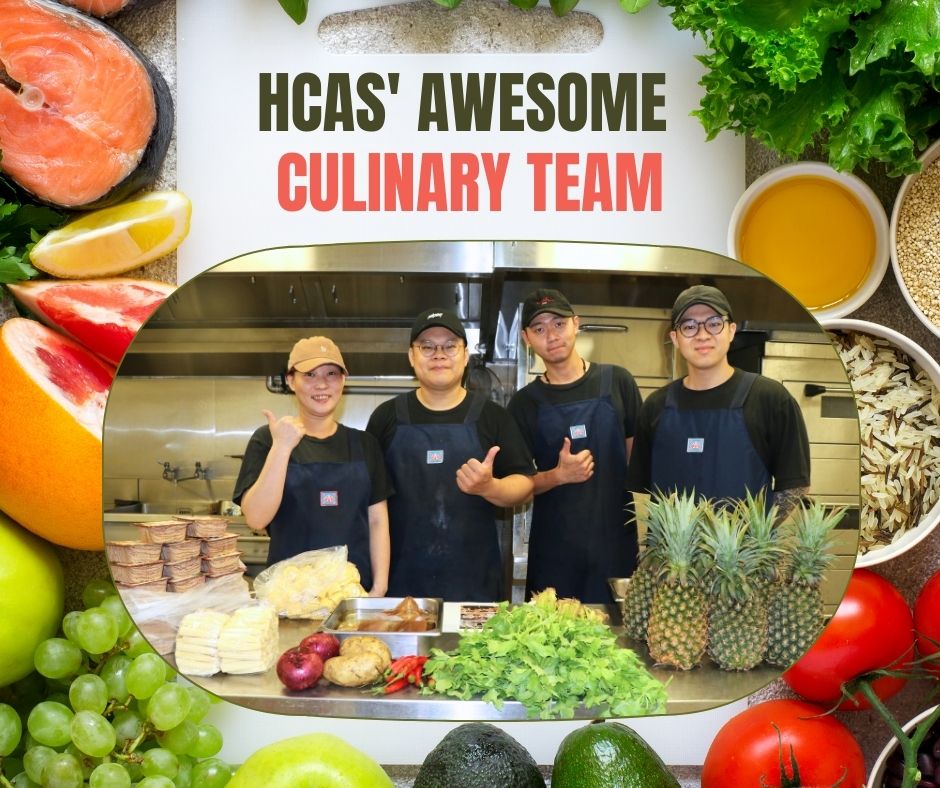 Lunch is an essential part of the day to keep us going throughout the entire day of work or study. The difference in having a good lunch or not is night and day on our mood and energy level, and having a good lunch will keep us amped-up for the rest of the day, won't you all agree? 
At HCAS we are confident that our school lunch is one of the best, if not the best in Northern Taiwan. It is so good that having lunch is something that all the teachers, students, and staff look forward to and discuss each day. It is so good that we just had to interview Chef Huang and his culinary team, Lisa, Josh, and James, to give everyone a glimpse of the team's expertise and dedication to providing delicious meals for us each day.  
午餐是一天中不可少的一部分,讓我們能夠繼續一整天的工作或學習。午餐吃得好與否的區別在對我們情緒和精力有極大的影響,吃一頓好的午餐會讓我們在剩下的一天裡保持精力充沛,大家同意嗎?
在新竹縣康乃薾美國學校,我們有信心我們的學校午餐是北台灣最好的之一,如果不是最好的之一。我們的午餐是所有老師、學生和工作人員每天都盼望和討論的事情。因此,我們不得不採訪黃廚師和他的烹飪團隊 Lisa、Josh 和 James,讓大家了解團隊的專業和奉獻精神,每天為我們提供美味佳餚。 
I absolutely love the food at our school! From the hearty soups to the crispy salads, there's always something delicious on offer. The chefs really know how to whip up a tasty meal, and I always look forward to lunchtime. I'm so grateful to have such a great selection of meals available to me every day. 😋​
Ken
Grade 8 Student
I think the school lunch is overall great, and it tastes pretty good. But I think sometimes the school lunch isn't all that great, like the porridge. I think that's basically it.
Yichiao
Grade 8 Student
I've worked at 4 schools and HCAS truly has the best lunch. It gives us more things to look forward to each day. I've seen students toss food away at other private schools in Taipei because the food isn't good, that doesn't happen here.
Chiang
Staff
How many years of experience do you have in the culinary field?
The team is le
d b
y
Chef Huang, who has more than 17 years of experi
ence in the culinary field. 
When does your team start preparing lunch each day?
Every morning at 7:30am,

we

step into the spacious kitchen preparation area in Hsinchu County American School.

We

step into the sanitization chamber as the first step of the procedures to ensure food safety

, then

put on our aprons

.

We

then take out the ingredients that were just prepared yesterday

afternoon and

get

ready to welcome the other fresh ingredients arriving today. 
Do you sometimes need to prepare a day or two in advance?
We always prepare a day in advance.
Each day after serving lunch,
we wash
and prepare
fresh ingredients for the next day.
We

spend a lot of time

coming up

with

meal ideas a month in advance, which is then reviewed by the general affairs office, and provided to parents and students to see on our website at the beginning of each month.

To give variety to the menu,

we make

sure that no meat appears twice on the

menu

each week. 
How does HCAS monitor the quality of our food suppliers?
We request
agricultural certification from the vendor as another step to ensure food safety.
How does HCAS ensure that students get a healthy and balanced lunch?
To
give everyone at
HCAS
a
healthy and
balanced
diet,
our meal
consists
of meat, vegetables, soup, fruits, and tofu or egg each day.
The menu also lists
possible allergens
o
f
each
meal in case
anyone is allergic
.
How do we ensure students get enough to eat each day at school?
Parents never have to worry about students not having enough to eat as students can take more from the buffet counter if they would like more.
In addition, students in kindergarten to grade 4 are
served
snacks in the afternoon. 
What are the top 5 most welcome dishes at HCAS?
They are p
asta
, b
eef noodle
, p
ork dumplings
(
with
corn, cabbage, leek), f
ried chicken
(
braised dishes, including
b
eef, tofu, seaweed, egg, and pig blood cake.
)
What are the most memorable gratitude or comments from that you have received?
We often receive positive comments from staff and students
throughout each week
.
Furthe
rmore, t
here was
this one time
whe
n
a whole class of students came to the cafeteria to give us Thanksgiving cards, individually and for the
team
.
Here is
one of the cards we kept in the kitchen, and we have some at our own homes, too!
Is there any message you would like to convey to the parents and students?
Parents are welcome to give feedback via PTA or to our general affairs office. Should parents or students notice any areas of improvement please tell us the exact date and name of the dish so we can pinpoint and make improvements

timely

and accurately.